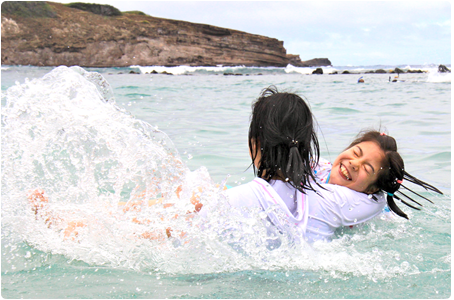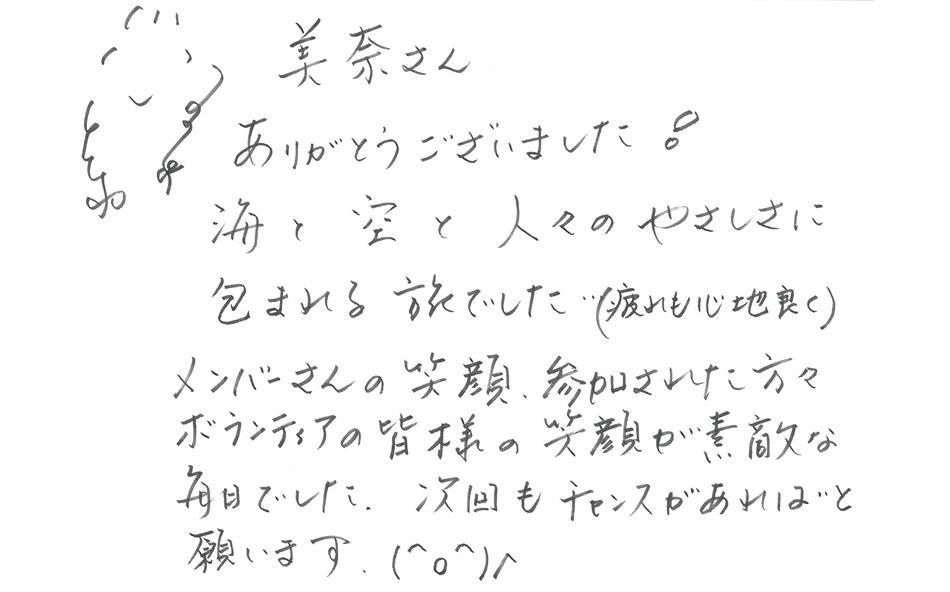 Thank you very much! The ocean, the sky and people's warmth hold me during this trip.
(The tiredness is also makes me comfortable.) Everyday was so wonderful and beautiful with smiles of the participates and the volunteers. I would like to have a chance to join this trip next time, too.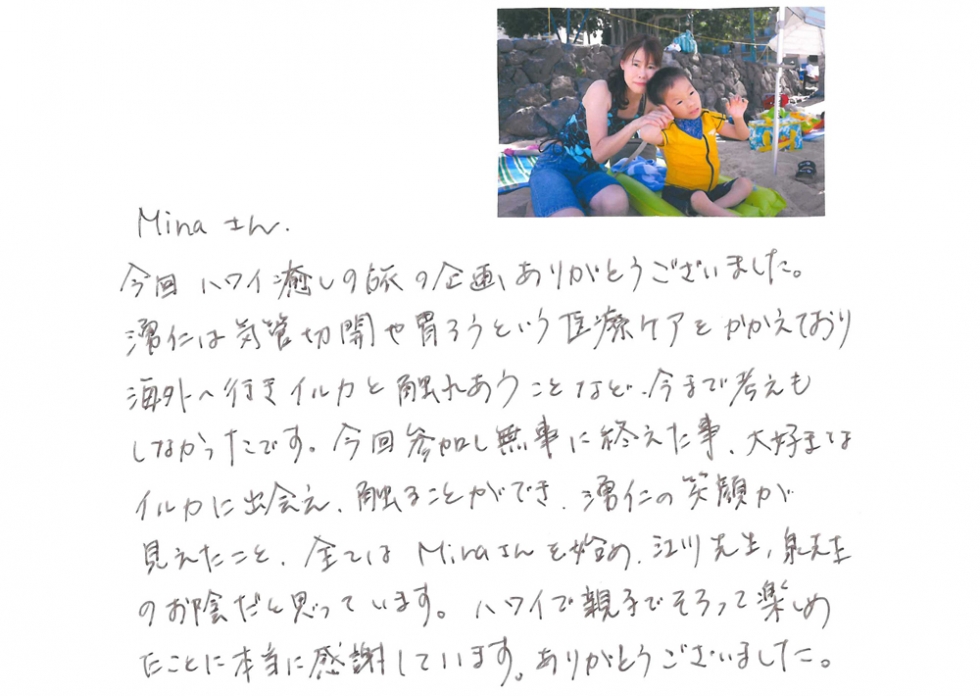 Thank you very much for planning Hawaii trip. Yujin has some medical situations such as tracheotomy and gastric fistula. I had never thought to go to Hawaii and meet with dolphins for him because of his medical care needs. Thanks to Mina, Dr. Egawa, and Izumi, Yujin was able to stay healthy, meet with his favorite dolphins, touch the dolphins, and have smiles on his face. I appreciate that both mother and son had fun in Hawaii. Thank you very much.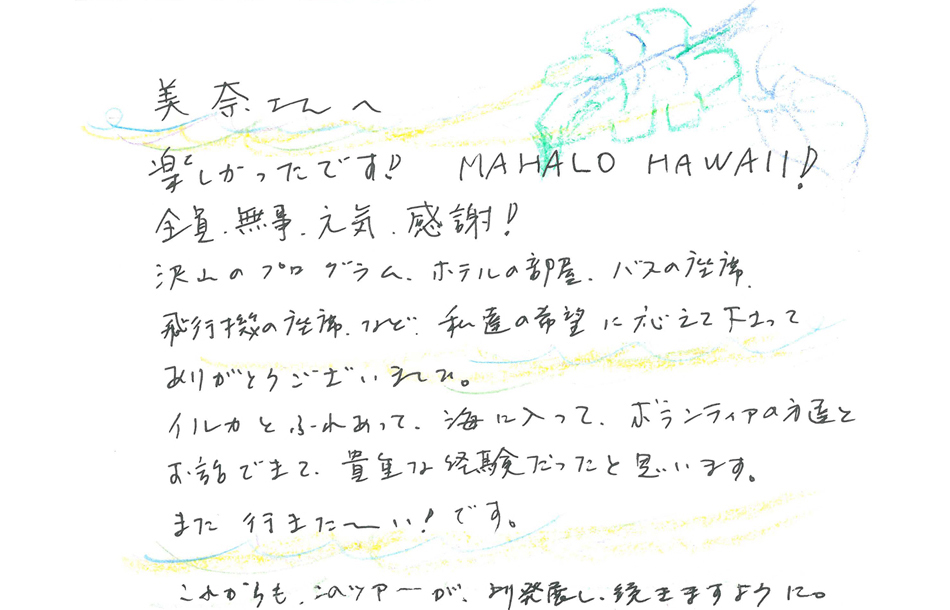 I had so much fun! MAHALO HAWAII!
Everyone was safe and healthy. Thank You! Thank you very much for anticipating many kinds of programs, hotel rooms' requests, and the seats of the bus and flights' requests. Everything was precious experience for us during this trip such us meeting with dolphins, going to the beach, and talking to many volunteers. I would love to go to Hawaii again! I wish this tour develops and continues.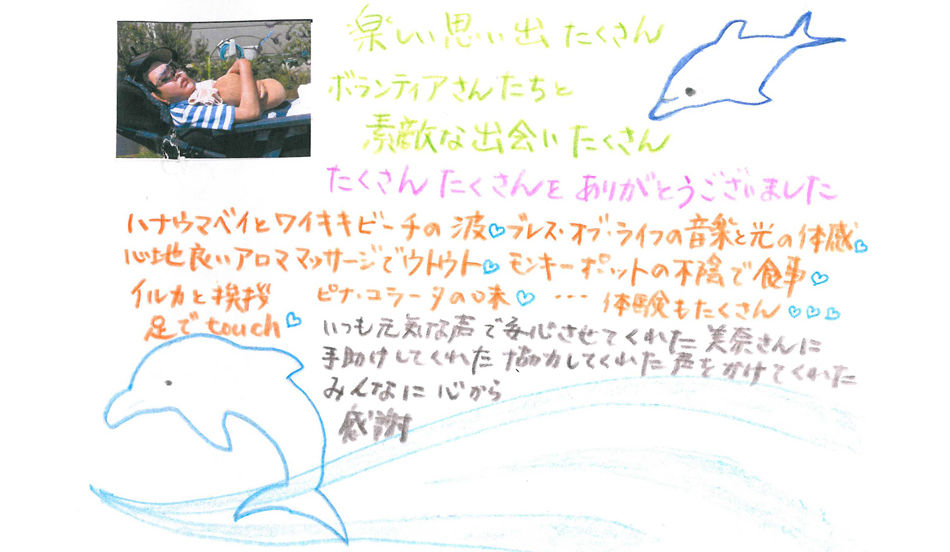 I have lots of fun memories. I had many beautiful meetings with volunteers.
Thank you very much for many many things. Waves at Hanauma Bay and Waikiki Beach♡ Music and lights of "Breath of Life" (show at Polynesian Culture Center)♡ Comfortable aroma massage made me sleepy♡ lunch under the monkey pot tree♡ Meeting with dolphins and touching by my feet♡ The taste of Pina Colada(cocktail)♡ Lots of experiences♡ I really appreciated that Mina gave us sense of security with her cheerful voice and the staff members and volunteers who helped, cooperated, and took care of us.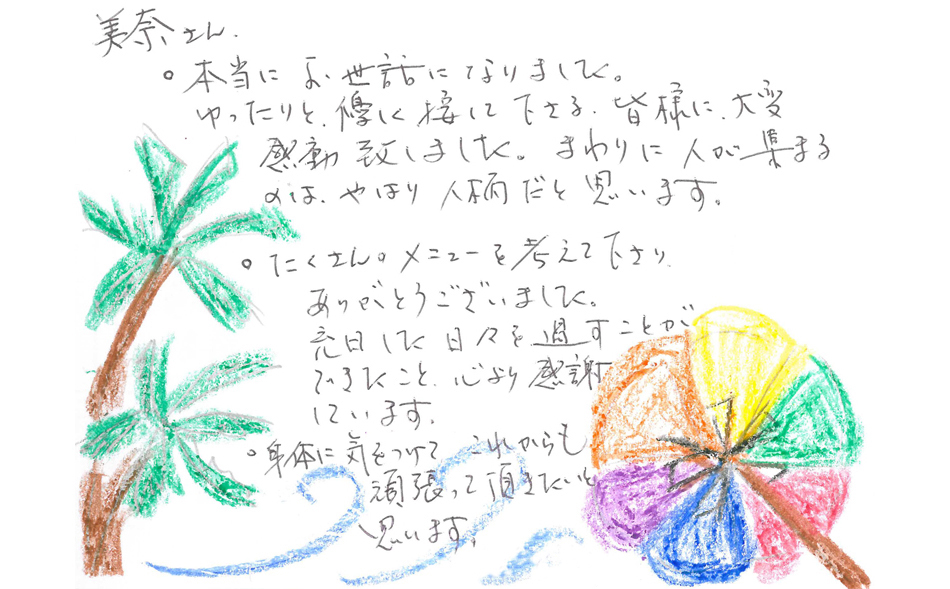 Thank you very much for taking care of us. I appreciated all of staff members for their kindness and peacefulness. Because of the great staff members' personalities, many people gather around Nai'a. Thank you very much for making many kinds of programs. I thank you all that I was able to spend full and enriching time. Please take care and keep doing this program.